Swoope Almanac Awarded First Place Outstanding Book
I am grateful. The Virginia Outdoor Writers Association (VOWA) selected Swoope Almanac, Stories of Love, Land, and Water in Virginia's Shenandoah Valley as First Place, Outstanding Book 2019.
My sincere thanks for their support and to my team that helped edit, design, publish, release, and market the book. It has been a wonderful, educational, and fun-filled three-year journey.
Click on the image of the book to order your copy today.
Thanks to The Swoope Almanac Book Team
I could not have done this without a team of gifted people. I would like to thank and acknowledge them.
Jeanne Hoffman, my wife, first-line editor, and the main character in the book.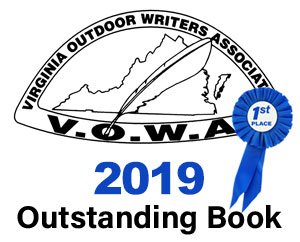 The Downstream Project and Bill Howard, fiscal sponsor, graphics, promotion, and overall project management,
Lot's Wife Publishing and Nancy Sorrells, editor and publisher,
Libby Howard, Copy Editor,
Jennifer Lee, Wood and Associates, Graphic Design, InDesign layout,
Illustrators, Veronica Freeman, Betty Gatewood, and Neal Whitescarver,
Mid-Valley Press, Bob Schrieber, and Paige Grisham.
Publishing the book was made possible with funding from The Campbell Foundation for the Environment,George Orhstrom II, and Jeanne Hoffman.
Marketing Assistance
Thanks also to the Chesapeake Bay Foundation and Conservation Services for assistance with marketing the book.
Thanks to the Folks That Endorsed the Book
I would also like to thank all the people that read early manuscripts and wrote endorsements and forewards:
Will Baker, Tom Benzing, Keith Campbell, Jeff Corbin, Nicholas DiPasqaule, Emmett Hanger, Scott Nordstrom, and George Ohrstrom, II.
Here's what they had to say about the book:
"Bobby calls Jeanne 'the Princess of Swoope' with good reason. Her life as a pearl-earring-wearing, calf-roping cattle farmer unfolds in these hilarious, tragic, and beautiful stories in this uniquely written book.

This is a fun read that will make you laugh and cry. It will compel you to be more observant of nature and to be a better steward of land, soil, water, and animals."

"Bobby is a force of nature! And with this compilation of his blog posts, musings, and articles, we gain insight into farming, family, and the forces that shape the Shenandoah Valley he calls home. I enjoyed his humorous yet direct writing style as he shared personal and professional observations on conserving the natural landscapes that, quite literally, feed and nourish us."

"Bobby and Jeanne show us how agriculture and conservation can work together, just as the couple's remarkable marriage does. This book is about their journey together on the farm to produce healthy livestock and clean water.

This book gives us a blueprint not only for the restoration of the Bay and the waters of the United States but also for the family farm."

"If you want to understand the perspective of a dedicated cattle farmer, educated ecologist, and water-quality specialist, this is the book for you!
Turn these pages and feel the frost on your nose in winter, hear quail calling in the spring, taste a homegrown tomato in the summer, and watch Monarch butterflies fuel up on nectar in the fall. . . . truly spectacular stuff!"

"There's often a story about cattle, a little talk of environmental concerns, and a mention of his "Princess" and her collaborative work with him. That's how conversations go when I get a chance to visit with Bobby. He's easygoing and always has a great story, but there's a wealth of shared experience, knowledge, and love of farming and our environment in everything Bobby does. This latest book is just like sitting down and visiting with Bobby. You'll enjoy every bit of it."

"I have not met a more capable person than Bobby to explain, in understandable terms, the challenges we face in agriculture today and the opportunities before us to rise above them.

This book is a must-read for anyone concerned about the Chesapeake Bay and how best to work constructively with farmers to chart a sustainable path forward."
How Did We Do It?
As I stated earlier, this was a three-year, educational, and fun-filled journey. If you would like to know how we did it, I have written a summary of the steps that we took to successfully write, publish, and market a non-fiction book. Read about it here.
The post Swoope Almanac Awarded First Place Outstanding Book appeared first on Getting More on the Ground.